Backgammon strategy had its revolution with the rise of neural net technology. Software called GNU backgammon or Snowie showed another reality to the backgammon community around the world, making them realize that the way they have been playing for the past 30 years was probably not the most optimal one.
In the dawn of this new era, a new software came up. A software to rule them all, and to become the reference bot when we are talking about backgammon. This software is called XG eXtreme Gammon and it is a tool that every serious backgammon player should consider investing in.

---
What is XG eXtreme Gammon 2?
XG eXtreme Gammon 2 is a program that allows you to play against a bot. You can play any type of game, from money game to 25 points matches. You have the possibility to select the strength of the bot and try to defeat it on its ground.
But winning is not the most important thing on XG. What is important is the analyses you get while you are playing. The program is able to tell you what checkers move you are doing wrong and give you an equity value for every possible way to play a roll.
When you start a match, you can choose if you want the program to run in a tutor mode or not. In tutor mode, XG will ask you to reconsider a checker move or a cube action if it thinks that it is not the optimal one. In pro mode, you can play your match and see at the end what your rating is and access a complete analysis of your game. Thus, you can see every little mistake you made during the game and learned from them.
---
Import your live or online game in XG
Another great feature of XG eXtreme Gammon 2 is that you can import a game transcription in the program to analyze it. If it's a live game you recorded on camera, you will have to do it manually, roll after roll. But if you want a game you played online to be dissected, you will just have to import it into the software and choose the level of analysis you want.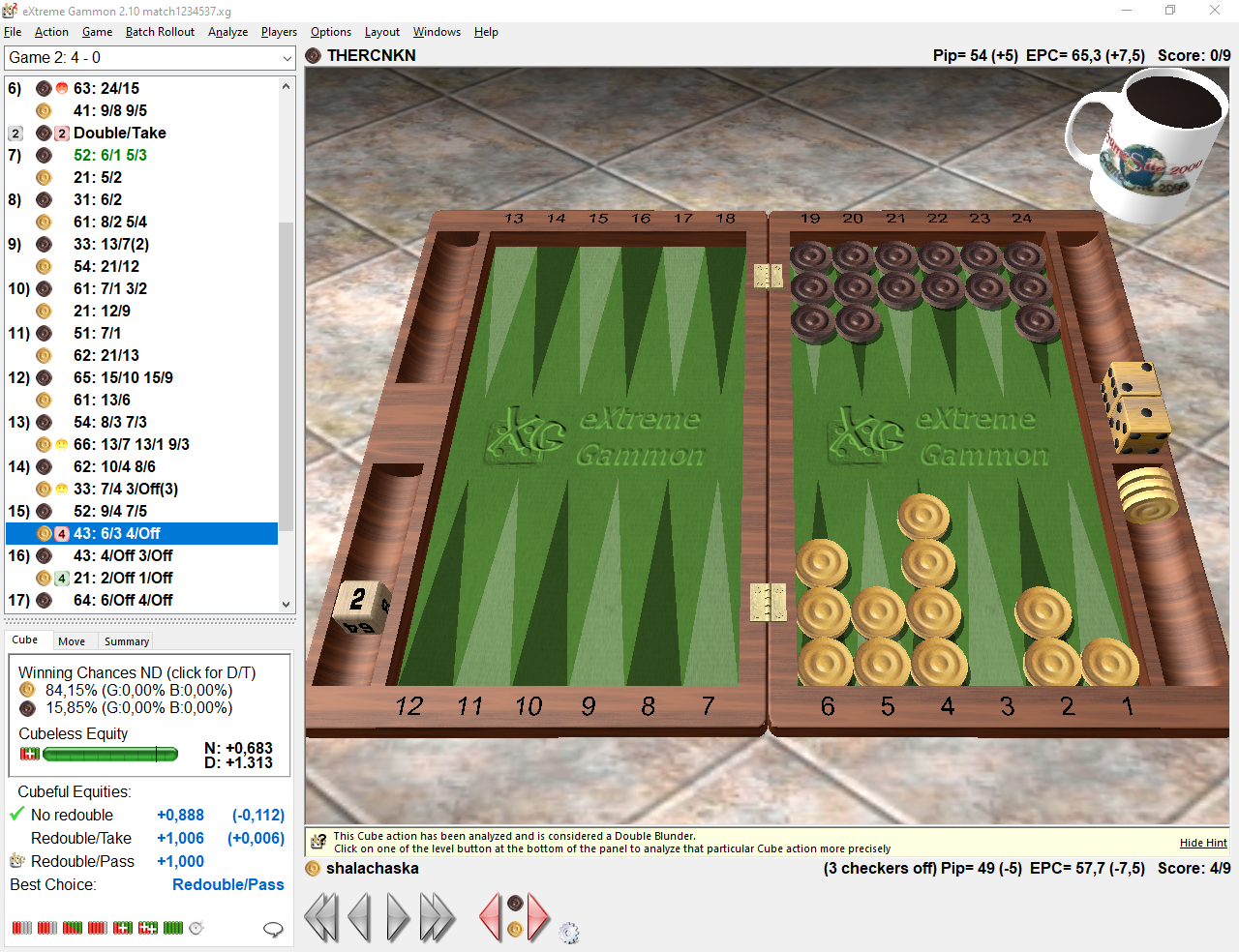 To import a game, its transcription has to be in a specific format like .txt or gnu. Fortunately, great online backgammon platforms like Nextgammon, Backgammon Galaxy or Backgammon Studio offer the possibility to download your game transcription. Thus, you just have to import it into XG to see what you did right or wrong during a match.
---
How can I get XG extreme Gammon?
If you want a copy of XG you need to go to the official website at www.extremegammon.com. A single registration cost $59.95, but if you are not sure you are ready to make this investment yet, you can download XG Extreme Gammon 2 for free and use it, with all the great features enabled, during a trial period of 14 days. XG also has a mobile version for IOS and Android, so you can use this wonderful software on the go. Check our XG mobile review to find out more about it.
So what are you waiting for? Get your free XG Extreme Gammon Software now and see if it helps you improve your backgammon skill. We are quite sure you will instantly love it.