When it comes to live backgammon, the choice of the board you play on, is crucial. I am personally a bit picky while playing any game because I like my equipment to be noble and stylish. A travel backgammon board can do the trick, but I really prefer to play on a big board with a smooth surface. A backgammon board on which you can hear the symphony of the dice rolling on leather or velvet. You can find a huge variety of backgammon board on the market. First you have to ask yourself what you are really looking at in terms of comfort while playing. To help you make your choice, I am going to give you some recommendation on board you can find on Amazon and Ebay.

---
The Wycliffe brother backgammon competition board : my personal choice
When I decided to take backgammon seriously, I wanted a board that can offer me good value for money and most importantly, a great pleasure while playing. After some intensive research, I came across the Wycliff brother competition backgammon board on Amazon.
I have been instantly seduced by its look. I am a former casino dealer, and for me the green will always be the true color of any gaming layout. It is easier on the eye and allows you to play for countless hours without feeling any fatigue, but if you prefer other colors you will find plenty of other options that I'm sure will suit all the taste. The second thing that caught my eye was the V-fiber gaming surface. According to the reviews previous customers gave, this surface produce the kind of muffled sound I was looking for when you roll the dice on it. The price seemed to be fair for a board of this size and quality, so I decided to give it a shot. I received it quickly and started to play with it straight away. I was pleased to realize that everything I was hoping for was true. The checkers move effortlessly and the sound when you shake up your dice and roll them was honey to my ears. The board combines a good size with a manageable weight, and you will have no problem taking it with you outside. Be aware that it is too big to be put in a hand luggage, for example. The doubling cube is huge and all the set screams top quality. I have been using it for almost 3 years now, and I surely don't regret my investment. It is still as good as day one, despite the countless games I played on. I definitely recommend the Wycliffe Brother Backgammon competition board to everyone willing to buy a top quality backgammon board at an affordable price.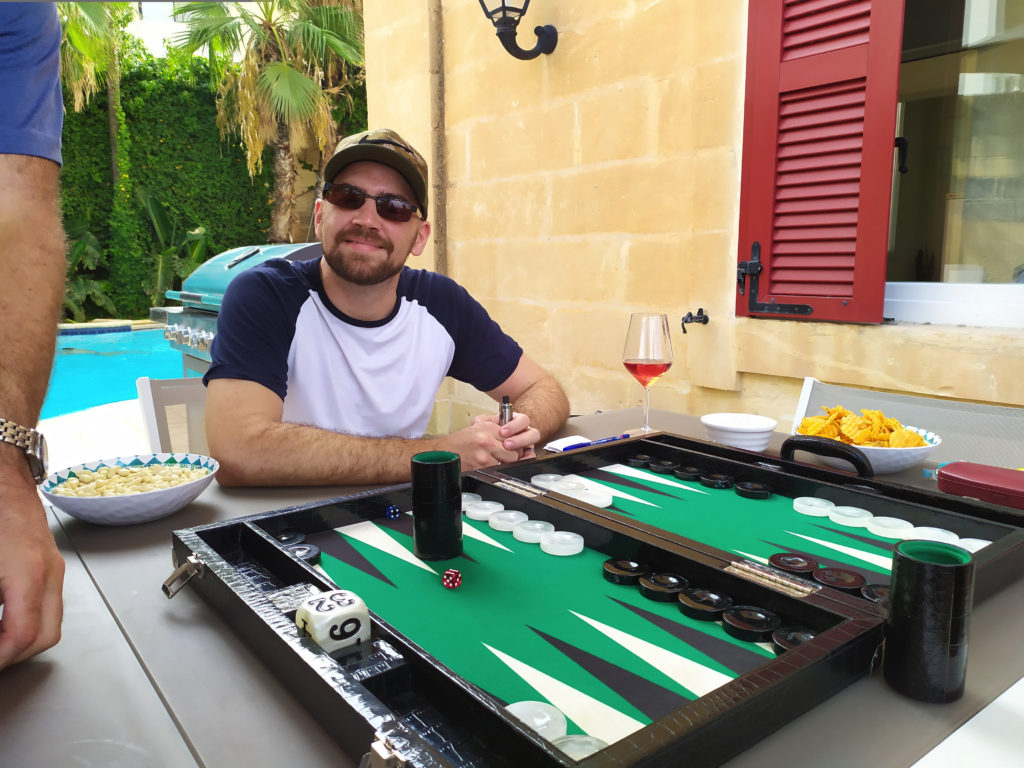 ---
P-40 and Geoffrey Parker : if money is not an issue
If you want to impress your friends next time you enter to play in your local backgammon club, I know some boards that can do the trick. The P-40 is a totally customizable backgammon board that made hundreds of players happy around the world. You can choose everything from the color of the case to the one of the checkers. Quality has a price and buying a P-40 will cost you $995 minimum, plus some extra if you add some fancy features. This board has been recommended by many world champions and backgammon master and it is known to be the best value that money can buy. Keep in mind that this is for people who like modern and contemporary design, but if you are looking for something more traditional, we have just what you need.
Geoffrey Parker is a UK-based company specialized in the crafting of all kinds of luxury game for over 60 years. From chess to monopoly, everything that Geoffrey Parker offer is a piece of art and their backgammon set are no exception. Totally handmade and customizable, possessing a Geoffrey Parker board is the sign that you belong to the top or that you won your board at a highly rated event in Monte Carlo or London. To put your hand on Geoffrey Parker board you will have to reach deep down in your pocket because the price range starts from 2215 to 300,000 British pounds! But when you love, you don't count, do you?
---
Backgammon set on Ebay : cheap but not so good
A lot of beginners wonder where to buy their first backgammon board. Well, there is as many answers to that question that you can find different kind of board. You can buy a backgammon at Walmart or at any toy store across your country. Ebay is one of the leaders of e-commerce and a lot of you might think they are going to find the backgammon set of their dream on this website. I don't want to lower your expectation but backgammon boards on Ebay are rarely what one can call top quality. First you are going to find a lot of backgammon wooden board. Those kinds of boards are highly appreciated in Middle East, Greece and Turkey. I bought one myself during a trip to Athene, more as a souvenir than to play on it. The problem with the wooden boards is they are extremely noisy. The sound that makes the dice on the wood each turn tend to drive me crazy. I find it hard to focus if I play more than a couple of games. The other boards you will find on Ebay are roughly the same as the one they sell at Toys'R'Us. They look more toy-like than proper backgammon board. You might still find a good deal for a decent second-hand board, especially for a backgammon set to travel, but Ebay shouldn't be your first choice to find the backgammon set of your dream.