If you want to focus on developing your backgammon skills and tactics, Backgammon Galaxy is one of the places to be. Powered by the powerful XG2 software, it is a wonderful tool that might get you addicted.
---
Presentation of Backgammon Galaxy
BackgammonGalaxy.com has been launched for almost 2 years now and the platform is attracting more and more players every day. There are several reasons for this success, but we can say that the most important one is the fact that Backgammon Galaxy is powered by XG2, a powerful analysis software that is a reference in the Backgammon world.
This means that after every match played on Galaxy, you have access to a full analysis of all your moves and cube decisions. Thus, you can spot your mistakes, learn from them and improve your game at a galactic pace. The software also gives you a rank based on your performance, from "Galactic master" if you play an almost perfect game to "Distracted" if you were not on a good day.
One will find a lot of good players on Backgammon Galaxy, thus reaching the top of the ranking is not an easy task, but the satisfaction of improving your rating and making fewer and fewer mistakes one game after another is already a great satisfaction. After all, backgammon is not a game that you can master quickly, so enjoy the journey as much as the result.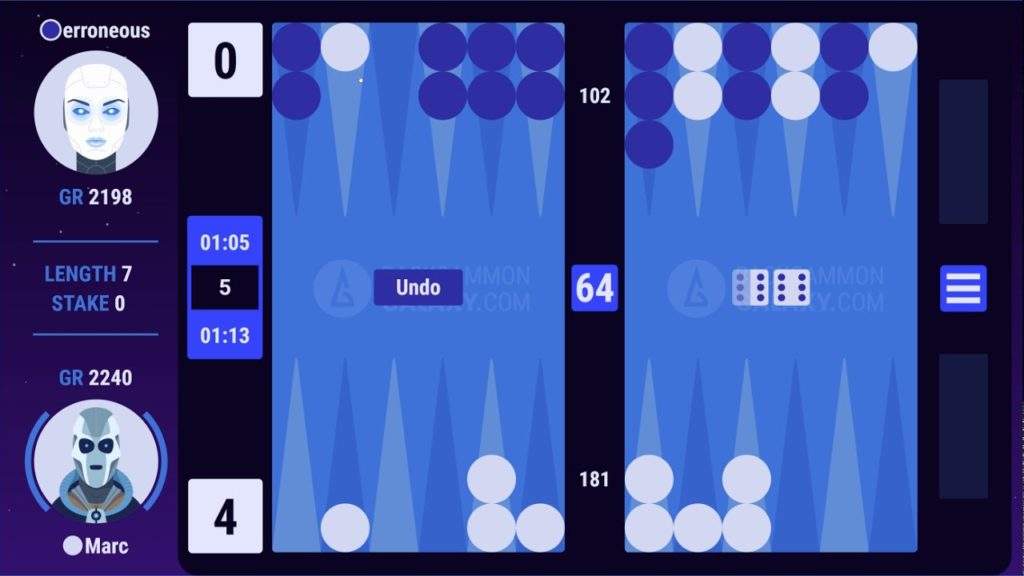 Graphically, Backgammon Galaxy is clear and pleasant. There are few more sections under construction (it will be apparently possible to play for a money called the Galaxy coins), because the project is still at a beta phase, but there is no doubt in my mind that the software will be one of the major actors in the online backgammon world for years to come.
Playing backgammon online is a good way to learn and improve your skill, but nothing will ever replace the feeling of playing a game on a beautiful physical board. If you are interested, you can find a great selection of backgammon sets and accessories at the shop of our partner GammonVillage by clicking the button below :
---
Our opinion on backgammon Galaxy
Our BackgammonGalaxy.com review is simple : this is one of the best platforms to play online. We regret that there isn't a Backgammon Galaxy app for the moment, but we are confident that it will come at some point. If you are looking for a great platform to improve your game and you like to analyze your matches, it will delight you.
A strong player community is committed to this platform and to help you in your quest for the perfect play, you can count on Backgammon Galaxy Facebook groups, composed of players from all over the world willing to give you advice and tricks to become a master.
Latest update : it looks that it is now possible to register for some tournament on Backgammon Galaxy for real prize money. The participants are required to pay the tournament fee with bitcoin. This could become the new standard for real money online backgammon. Stay tuned!