If you want to focus on developing your backgammon skills and tactics, Backgammon Galaxy is one of the places to be. Powered by the powerful XG2 software, it is a wonderful tool that might get you addicted.

---
Presentation of Backgammon Galaxy
BackgammonGalaxy.com has been around for a while now and continues to attract more players every day. One of the main reasons for its success is the fact that it's powered by XG2, a powerful analysis software that is a reference in the backgammon world.
This means that after every match played on Galaxy, you have access to a full analysis of your moves and cube decisions. Thus, you can spot your mistakes, learn from them, and improve your game at a galactic pace. The software also assigns you a rank based on your performance, from "Galactic Master" for near-perfect games to "Distracted" for off days.
You'll encounter many skilled players on Backgammon Galaxy, making it a challenge to reach the top of the rankings. However, the satisfaction of improving your rating and making fewer and fewer mistakes one game after another is rewarding. After all, backgammon is not a game that you can master quickly, so enjoy the journey as much as the result.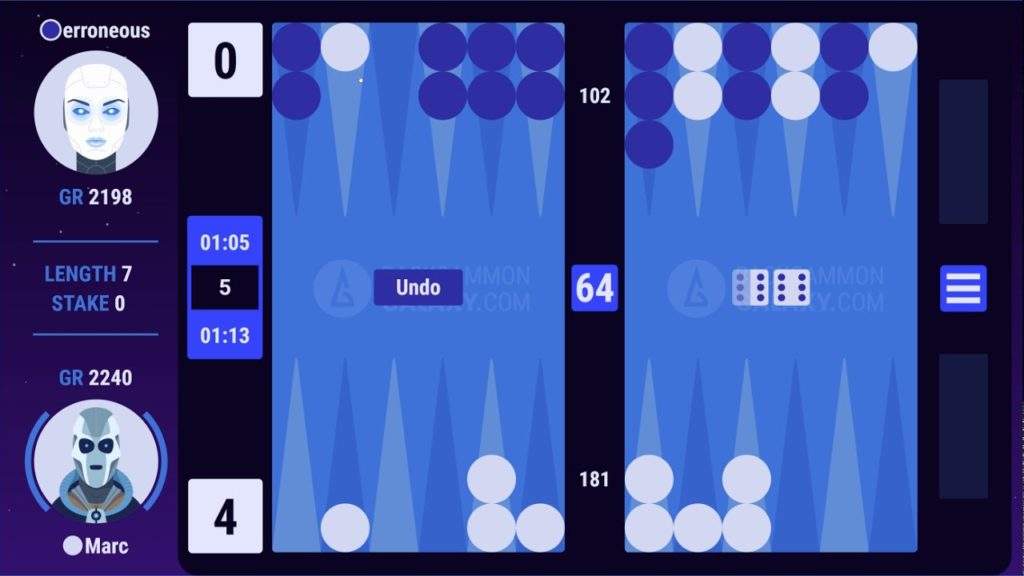 Graphically, Backgammon Galaxy offers a clear and pleasant experience. There are a few more sections under construction (like playing for Galaxy coins), because the project is still at a beta phase, but there is no doubt in my mind that Backgammon Galaxy will be one of the major players in the online backgammon world for years to come.
---
Backgammon Galaxy: Version 2.0 – A New Direction
After a long time of running on the beta version, Backgammon Galaxy underwent a massive update and a complete reorientation of its mindset on the 6th of September 2023. This new review is based on the changes in Backgammon Galaxy 2.0, and it's important to note that opinions on these changes vary among players.
---
Interface and Design
One of the first noticeable changes in Galaxy 2.0 is its graphics. The lobby's design and layout have received a significant facelift, and to be honest, it looks impressive. Navigating both the desktop version and the app is smooth. However, some users have reported issues with saturated colors while playing on the Android app.
The game board itself resembles the previous version, albeit slightly darker. Moving checkers around remains effortless, and you can access vital game information like the pip count, score, and remaining time on the clock. Overall, the design in this new version of Galaxy surpasses the previous one.
---
Gameplay and Features
This is where the most significant changes have occurred, and opinions are divided among players. The initial spirit of pure knowledge sharing seems to have shifted toward monetization.
Ranking: Galaxy now offers three different rankings, replacing the previous single ranking. One is for the leader in coins, the second for rating, and the third for Win Points (WXP).
Coin Games: Your adventure starts with 1,000 coins. You can attempt to win more by selecting "Coin Game" in the lobby. However, the length of coin games is fixed at 1 point and cannot be changed. This change has frustrated some players who appreciated the ability to choose opponents in the previous version. Additionally, you can purchase coins with real money (only available on the app) to boost your bankroll.
Ranking Games: Similar to coin games, but you don't need coins to participate, and matches can go up to 7 points.
Play a Friend: It's possible to create a private game and invite a friend by sending them a code.
Tournaments: As of now, there are no tournament options on Galaxy.
Analysis: You still have access to a complete game analysis once it's finished. A new, interesting feature allows you to focus on checker errors and bad cube decisions you made, making it easier to identify areas for improvement.
Star Membership: For $7.99 per month, you can become a member, gaining access to deeper game analysis, free chat usage, and a bonus of 800 Galaxy coins every 12 hours (compared to 400 for the free version). A Star+ option is displayed but not yet available at the time of this review.
Galaxy Shop: Backgammon Galaxy now features a shop where you can purchase site-branded goodies. Some learning materials are also available in the shop, although only one covers the very basics of backgammon for free.
Mobile Playing: Backgammon Galaxy offers a user-friendly application for both Android and iOS.
---
Our Opinion on Backgammon Galaxy 2.0
The recent massive update has drastically altered the direction of Backgammon Galaxy. While the platform remains smooth and enjoyable to play on, it now resembles a Facebook platform like Lord of the Board more than its original incarnation. I personally prefer the direction Nextgammon is going but I still recommend trying it to form your own opinion.