Backgammon Ace has a lot to offer in order to attract backgammon players. First, it is recommended by number 1 backgammon giant Masayuki Mochizuki aka Mochi. Second it is supposed to help you improve by telling you when you made a bad move and third, it is graphically one of the best backgammon app on the market. But all these great features cannot totally hide some problems that I encountered while playing on Ace.

---
Presentation of Backgammon Ace
Backgammon Ace is an app developed by Heroz. It is only possible to play on your android or iOS mobile device, so if you like to play on your computer, this is not a great option for you.
To access the app lobby, you need to create a free account. Once you are connected, you have the choice of playing a 3 min or 10 min game. Like many other backgammon apps, every game will cost you coins that you will get every day by simply connecting or that you can buy through the app shop.
There is a premium version of the app where you can choose between gold, platinum or diamond packages. Those cost between $4 to $8 a month and give you access to special features like progress tracking, backgammon quiz, etc.
Graphically, backgammon Ace is for me the best app, period. The board, the animation of the checkers, the music, everything is well made and makes you feel instantly comfortable while playing. I think every backgammon app or platform should get inspired by what you can find on backgammon Ace to improve their own gaming experience.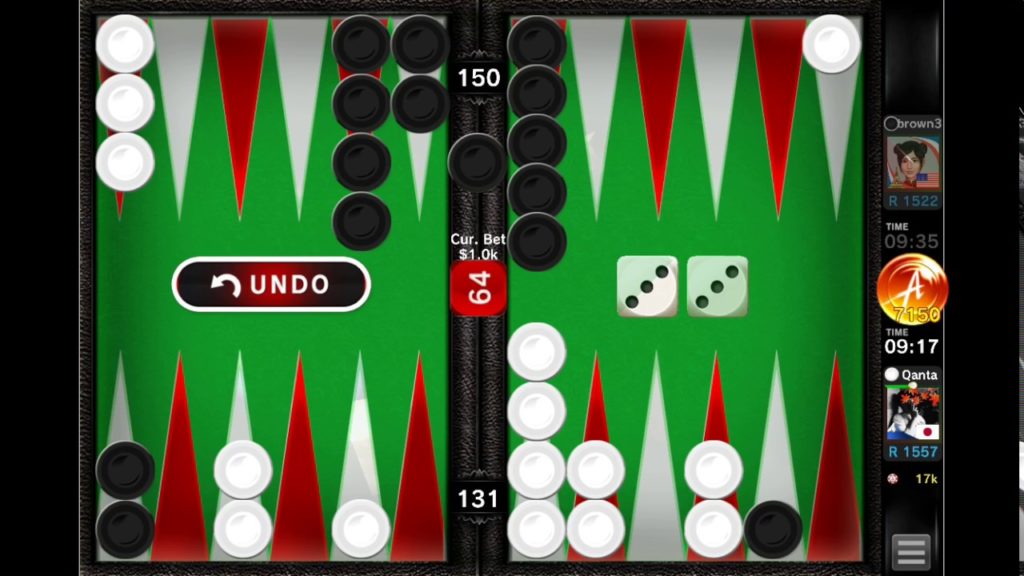 Unfortunately, everything is not great on this beautiful app and I have to warn you about a major problem I faced countless times : disconnection.
Many times I found myself disconnected while playing, especially at the end of the game when I was about to win. I made a test and played with a rock-steady internet connection, but the problem occurred again. Apparently, I am not the only person in that case. I found numerous messages of players on the Backgammon Ace official Facebook page, describing the same disconnection problem I had to deal with.
---
Our opinion on Backgammon Ace
Backgammon Ace could easily be one of our top 3 backgammon apps if the disconnection problem were fixed. It is a real pleasure to play on it when everything is running smoothly, but this is hardly the case. We hope that one day, the developers will find a solution that allows us to put this great app back to the place it deserves.