Attention all online backgammon players! There is a new sheriff in town and this might change the way you play online backgammon forever! I recently discover this platform and I have been very impressed by some features they offer. Created in 2021, Nextgammon intention is to storm the backgammon world by offering a platform that provides what players have been looking for a long time.
Nextgammon calls for players of all origins and backgrounds. Doesn't matter if you are a complete beginner or a master, you will find a game suitable for you. The big plus about Nextgammon is that they gave an answer about something players have been complaining about for quite a long time: fair and real random dice. The debate is endless, but Nextgammon comes up with a new approach by using the blockchain technology (more about that in the review). Let's dig in now and see what Nextgammon has to offer.
---
Interface and Design
The interface of Nextgammon is simple and clear with everything you need right under your eyes. The main colors are black and orange, which make it instantly recognizable. On the home page one will find several menus as follows : Play, Tournaments, Analysis, Ranking, Academy and more. For a quick game, click on Play to see what is available.
If you don't like what you see, you can create your own game by selecting a few criteria such as the match length, clock speed, and the type of variations. It is something that we are not used to seeing online, but on Nextgammon you can also play Nack, Hyper and Tavla. The board is pleasant to play on, with all the information such as pip counts, score and time remaining on the clock at your disposal. Overall, Nextgammon gives the impression of a solid and well-designed platform.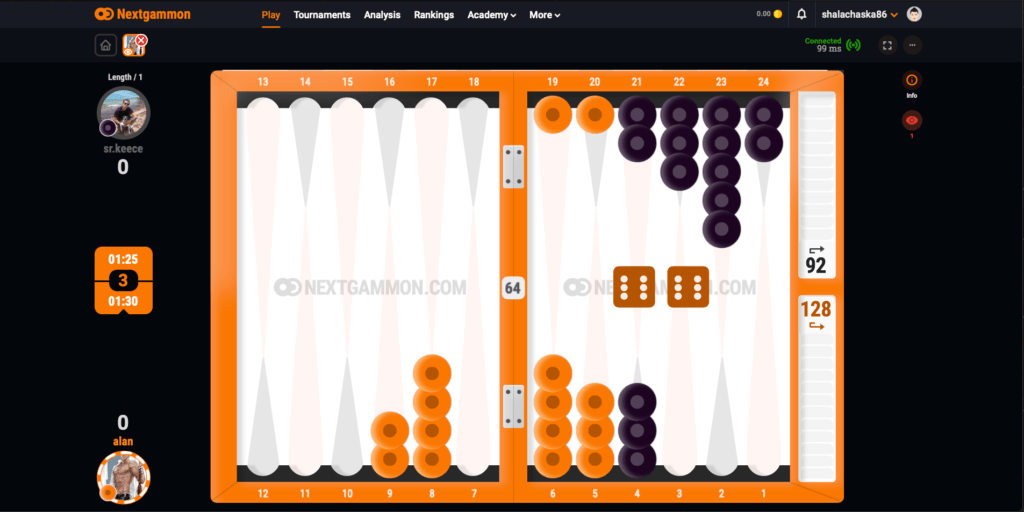 ---
Gameplay and Features
The number of features present on Nextgammon is quite impressive and makes it an interesting choice for any kind of player. The beginners (or even advanced) willing to improve can dig into the super complete academy. The more advanced players can consult and learn from the deep analysis of their games provided for free.
Different variations: when creating a game, you have the choice of playing regular backgammon or variations such as Nack, Hyper or Tavla;
Tournaments: many tournaments take place daily on Nextgammon. Some are free, some have buy-in. You can also find different settings of variation, time and number of participants;
Analysis: in this section, you have access to a deep analysis of all of your previous games to see where you could have made a better move and cube decision. You can also review all of the dice roll in the blockchain to be assured of their fairness;
Ranking: the community on Nextgammon is growing and on this section you can see who are the leader in terms of wins, match played, experienced and more;
Academy: Nextgammon made a great effort to build an academy full of ressources. In this section, one can find valuable lessons about all the important aspects of backgammon, like a glossary, books recommendations and positions analysises. Many of the articles are written by Grand Masters and thus is a great source of free information for whoever is willing to improve;
Play for free or not: you can choose to play for free, but we know backgammon players like to make the game a bit more interesting. Nextgammon use coins to bet and you can buy them in the cashier using crypto (10% bonus if you do), PayPal, Debit cards or else;
Mobile playing: Nextgammon has an app that is responding well and pleasant to play on. If you don't find it on the Play store, go on the website from your mobile device and it will automatically ask you if you want to download the app. You will find every features and the same pleasure to play that on your computer.
---
Fairness and Security: Blockchain Technology for Dice
When it comes to online backgammon, there is a raging debate about the fairness of the dice roll. Many players complain that dice are rigged and give away too many doubles or lucky rolls to a specific player. Well, we won't close this debate today, but it is certain that Nextgammon heard about it because they decided to answer the problem with a new, innovative and strong approach: the blockchain.
We won't go too deep into the functioning, but we can say that this is the same system used by crypto currency to assure the security and the uniqueness of everything. In the menu «More» of Nextgammon, there is a «Dice Blockchain» section where all the rolls happening on the platform are treated in real time. This transparency about the dice roll is something asked by players for a very long time and let's tip our hat to Nextgammon for this brilliant initiative. Is this the end of the debate about rigged dice? The future will tell!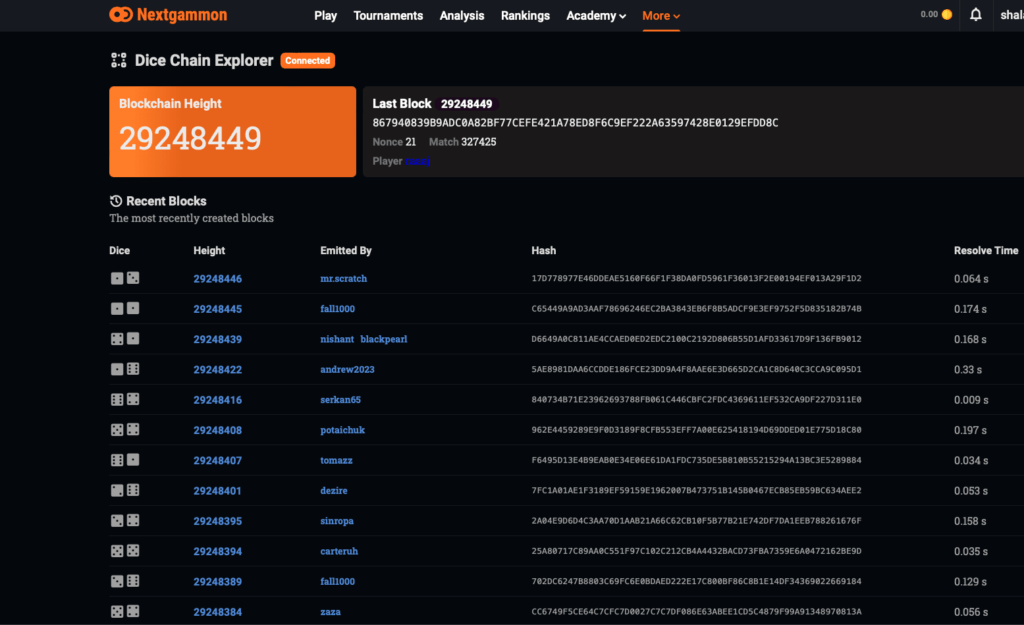 ---
Our Opinion on Nextgammon
Nextgammon is without a doubt a serious challenger for the title of best backgammon website. The simplicity of the interface, the large community, the free resources available for learning and, of course, the blockchain technology used to guarantee the fairness of the dice, everything screams quality and real passion for the game we love. Nextgammon has definitely set the bar pretty high and we can't wait to see what surprises they have for us in the future.